'Tis the season to spread cheer, which in some cases can mean spreading your waistline! Holiday weight gain is a very real challenge. Between all the readily available seasonal treats, the parties, and the time spent traveling, it can be difficult to stick to a diet and a workout routine.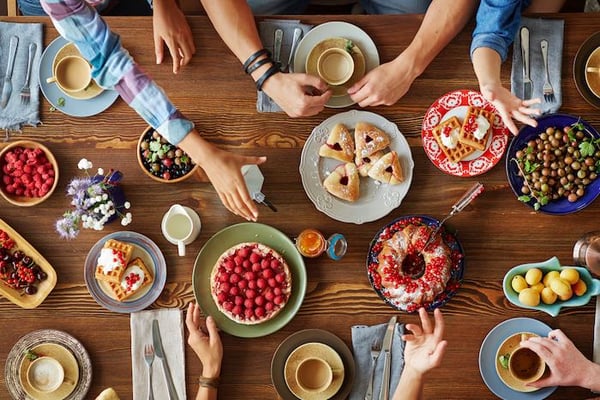 Use these 5 tips to curb your weight gain while still experiencing the joy of the holidays.
Top 5 Tips for Minimizing Holiday Weight Gain
Tip #1: Pick a Few Favorite Holiday Cheat Foods to Allow
You know which foods are your favorites over the holiday season—they're the ones you can't turn down at parties and crave as soon as you think of them. Rather than designating full cheat meals where you load up on whatever delicacies are available, restrict yourself to only "cheating" with the holiday foods you love the most. Sticking to your favorites in moderation will allow you to celebrate the season without overdoing it.
Tip #2: Pre-game for Parties and Events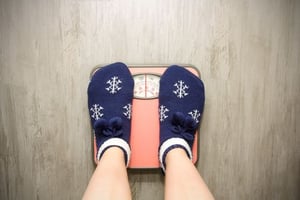 One of the worst things you can do to your body over the holidays is to show up at events or parties hungry, tired, and stressed. All of these conditions will make overeating much more tempting.
Pre-game so you arrive ready to make healthy, intentional choices:
Eat fiber ahead of time
Eat protein before you get there
Get enough sleep
De-stress
Tip #3: Set Smart Food Boundaries for Yourself
With so many temptations to resist this season, it's wise to set smart food boundaries for yourself ahead of time.
Stick to salad-plate-sized portions
Don't keep unhealthy holiday snacks within easy reach
Avoid skipping meals to "save room for later"
Sit down and slow down when you eat (don't multitask)
Bring healthy dishes to share so you have a smart option
Tip #4: Plan Some On-the-Go Workouts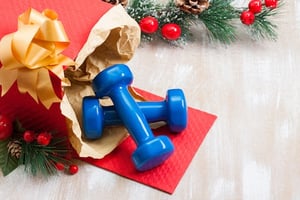 Traveling doesn't have to make you sedentary. There are lots of ways to get in a workout while you're away from home (or if you have house guests and can't make it to the gym).
Sneak in holiday workouts

by planning ahead of time

Keep a list on your phone of equipment-free bodyweight exercises
Bring resistance bands or a jump rope with you when you travel
Commit to a short HIIT routine (like 10 squats, rest, 10 lunges, rest, 10 crunches, etc.)
Aim to walk to exercise each day, not just to get from one place to another
Tip #5: Make Movement a New Tradition
Sometimes plans go awry or you just can't find the space to really workout over the holidays. If that happens, do your best to just keep moving. Inviting family or friends to join in can help you get more active and may even start a new healthy tradition.
Try:
Kicking off a mini-dance party
Going for walks after heavy meals
Strolling to see Christmas lights or holiday displays instead of driving
Standing while you socialize
Stretching during commercial or other activity breaks
Prepare for the New Year
You'll feel better starting off the New Year if you approach the holidays determined to have fun without wrecking the past year's hard work! For accountability, fun classes, and other opportunities to keep up healthy habits over the holidays, come to Texas Family Fitness.
You can start with a 30-Day VIP Pass today!