Nothing says summer quite like barbeque! Good old Texas barbecue is a staple for spending time with family and friends throughout this season. But trying to lose weight when it's barbecue season can be tough.
Fortunately, there are plenty of ways to practice healthy eating while getting your grill on! You can still enjoy that tasty sauce and slow cooked flavor with a few strategic tweaks.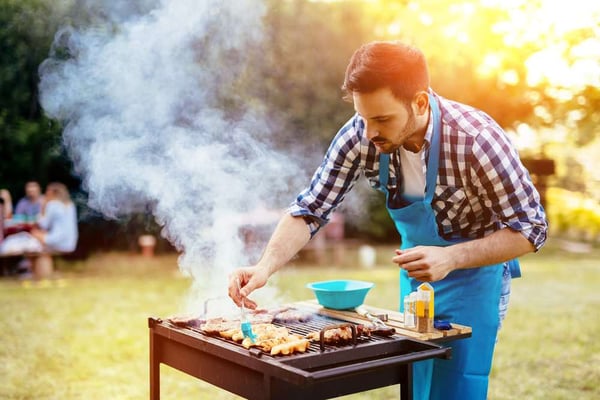 Use these tips to eat healthier at your next barbecue:
Healthy Eating When You're Hosting a Barbecue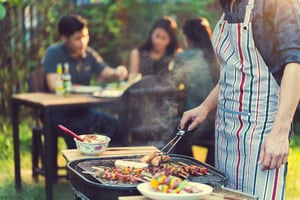 It's easiest to keep your calories and fat in check when you're the cook. Try these tips to splurge on flavor and skimp on calories. Your guests will thank you for offering healthy options, too!
Barbecue

chicken

or

lean cuts pork

If you barbecue beef, opt for less fatty cuts such as lean brisket

Use herb or citrus seasoned vegetables for flavor

Swap out lettuce wraps or veggies like eggplants for buns

Steam food in tinfoil to get more flavor with less sauce

Grill veggies as a side (just not carb-heavy options!)

Make your own

healthy barbecue sauce

Offer salad that barbecued meat can be added to

Use lime or lemon juice (or olive oil) in place of butter
Healthy Eating When You're a Barbecue Guest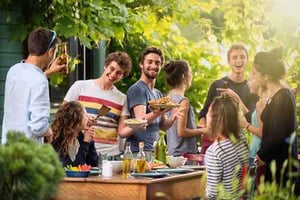 Eating healthy at a barbecue someone else is hosting can be a little trickier. There are still ways to enjoy your buddy's barbecue without busting your calorie budget, though.
Eat meat without the buns, biscuits, or bread

Take the skin off the meat you eat, and make sure to trim off the fattier bits

Choose roasted veggies over cold mayo-heavy salads

Rub a lime on your corn on the cob instead of butter

Opt for the lowest calorie meat option (poultry or pork)

Drink a lot of water so you feel fuller
Most importantly, you'll need to practice portion control! Just because everything's bigger in Texas doesn't mean the portions have to be. This is especially true when it comes to beef. But, as long as your feast can fit on one plate, you should be able to minimize your calorie intake.
Healthy Eating When It's a Potluck Barbecue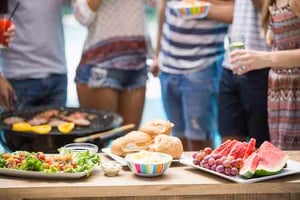 Potlucks are great when you're on a diet. You'll have a chance to eat small portions of less-than-healthy barbecue foods…but you'll also get to bring your own lighter option. Choose a healthy side dish like:
A fresh green salad

Grilled summer veggie salad

Fruit salad as dessert

Guacamole and baked chips
How To Work Off That Delicious Barbecue Food
Besides being intentional about what you eat, it's important to counteract the calories you consume at summer barbecues. We're offering a FREE 30-Day VIP Pass so you can burn that barbecue goodness away!