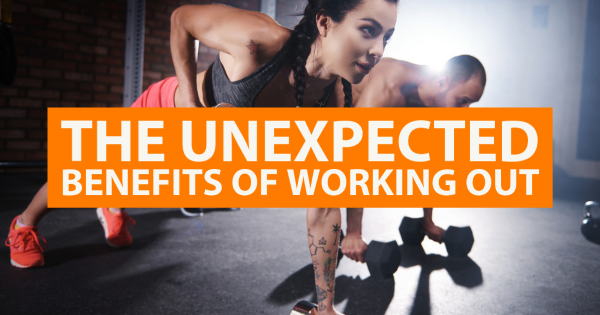 Looking for the right motivation to begin (or restart) a fitness regimen? There are many advantages to staying fit that you may not realize. Even if you consider yourself to be in great shape, the possible benefits of a regular fitness routine are essential to your overall health and well-being. Keep reading to learn more about the unexpected benefits of joining a local fitness center.
Better Sleep
You may be surprised to hear that a regular exercise routine can help improve your sleep. In fact, statistics show that approximately 60% of people who weight train get an average of seven hours or more of sleep a night. But how can working out improve your sleep? For one thing, you are challenging your body every time you work out: working your muscles, building your endurance, and increasing your metabolism. That's enough to make anyone tired! Additionally, working out releases endorphins, giving your body a rush of energy that then later levels out and makes you tired (but in a good way). A regular fitness routine can also help reset your body's clock, putting you on a better sleep cycle for when your body does finally wind down.
Less Stress
Joining your local fitness center can also help you beat stress. As mentioned above, when you engage in a regular fitness routine, your body releases endorphins that can boost your mood and be an instant stress reliever. Working out also keeps both your mind and your body occupied, so you can focus on the matter at hand instead of dwelling on what is stressing you out. The health benefits of a regular fitness regimen also can ease stress by making you feel more relaxed, healthy, and comfortable in your own skin.
Relax Your Mind
This goes hand in hand with reducing stress. Adding yoga to your fitness routine is a great way to center yourself: working your body while calming your mind. Through yoga flows that focus on breathing and meditation, you will be able to increase endurance and stamina while also relaxing your mind. Try a few simple yoga stretches in the morning or before bed to help center yourself, or contact your local fitness center to see what classes to take for your specific skill level. Many local gyms offer a variety of classes with professional instructors to get you started, no matter your fitness level.
Getting fit isn't only about your body, it's also about your mind. The unexpected benefits of a regular fitness regimen may impact everything from your sleep cycle to your stress level, in addition to getting you strong and toned. When you are looking for a fitness center in your area, be sure to choose one with a variety of classes that not only meet your fitness goals but also offer a way to exercise both your body and your mind.