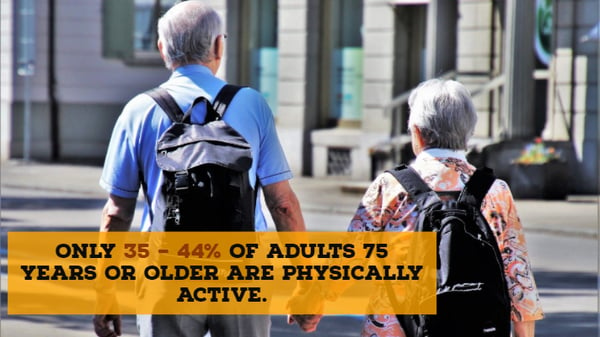 There are variety of classes that can be good to take for you and your whole family. For seniors in particular, it's important for them to stay in shape as they age. Did you know only 35 – 44% of adults 75 years or older are physically active? And only 28-34% of adults ages 65-74 are physically active. Maintaining strength and mobility will help to keep your elderly parent or grandparent active and independent for all their life. Here are some of the best classes for seniors.
Strength training classes
Strength training classes are helpful to seniors for many reasons. It helps to slow down the on-set of age-related health issues, and also improves mental clarity. This will help a senior be able to retain memory better, concentrate longer, and have a deeper sleep. In addition, seniors can be able to stand more firmly, which will reduce the risk of potential falls. Other benefits include gained bone density, weight management, reduced inflammation, regulated insulin levels, and improved metabolism. The strength training class relies on low to medium repetitions, along with using a variety of equipment. Instructors focus on all major muscle groups to improve muscular endurance and enhance total body strength.
There are a variety of classes that focus on strength training. One strength training class that a senior could take is barbell classes. These classes are very simple, as all that's needed for doing these exercises is a barbell. Professional coaches help teach the most basic lifts that can be done. Best of all, it only takes a short period of time to start reaching optimal fitness. Some seniors may need more strength in their arms to be able to more easily carry groceries. Other seniors may need lower body strength to have a better time lifting objects off the ground or standing for long periods. They'll be able to learn the most scientifically proven techniques to effectively activate whatever muscle groups they desire.
Overall, strength training classes can make a senior leaner, more muscular, more fit, and have an improved day-to-day life.
Silver sneakers classes
A silvers sneaker class is a little more light paced and upbeat. This class is designed to help improve mobility, balance, and posture. These are all common problems that can occur when we age. In addition, there are other seniors to socialize within the class, making for a fun time getting fit.
Senior workout classes
Senior fit is a great senior workout class that covers all forms of fitness. Best of all, family members and friends who are younger can join along in the fun with them. This can be extra motivating for a senior to have support from family or friends. The senior workout classes cover stretching, range of motion, cardio, agility, coordination, balance work and strength training. All of these exercises will be helpful for improving overall mobility and strength.
As you see, there are a variety of classes helpful to seniors. From strength training, to senior fit and silver sneakers classes, a senior will be able to achieve optimal fitness. It's important to continue exercising as we age. These classes will help seniors improve physical functioning, mental functioning, and ultimately improve overall quality of life.