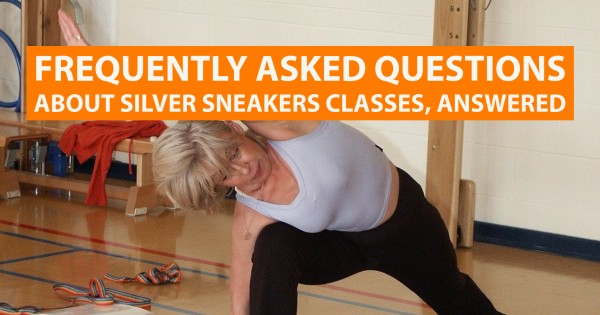 If you're 65 or older, did you know there's a fitness program that is designed for seniors like you? It's called Silver Sneakers, and it's the perfect program to help you get and stay physically fit. Led by supportive instructors, Silver Sneakers classes will keep your heart, brain, bones, muscles, and joints healthy. Best of all, some Medicare and insurance plans pay for these senior workout classes. That means you can go to a participating gym near you and get fit for free if your plan covers the cost.
With so many benefits to Silver Sneakers, it's a wonder more seniors are not taking advantage of these workout classes. Unfortunately, only 5% of adults get 30 minutes of physical activity each day, and even worse, a third of all adults don't get the recommended amount of physical activity each week. You owe it to yourself to get moving and stay moving. But, you may have questions about Silver Sneakers classes. We have your answers.
What Are Silver Sneakers Classes?
When you take part in a Silver Sneakers class, you'll be participating in a low-paced activity led by professional trainers. These trainers will help you improve your balance, mobility, and posture. Best of all, you'll be able to blow off some steam and join a friendly group of seniors who want to get fit and have fun while doing it. Silver Sneakers classes are available in over 17,000 locations across the United States.
What Can I Expect from a Silver Sneakers Class
If you're thinking about getting fit in senior workout classes, then Silver Sneakers has everything you need. Whether you're interested in flexibility training, yoga, strength training, or general fitness, these classes have something for you. Plus, most classes are in a group setting, so you'll be able to socialize and get in shape at the same time.
What Kind of Classes Are Available?
Available classes will vary from location to location, but some gyms will offer cardio and strength classes, with a chair for added support. You can also try chair and standing yoga classes, Tai Chi, and water aerobics in some locations.
Who is Eligible to Join Silver Sneakers?
If you are over 65 and on either Medicare Advantage or a Medicare Supplement Plan that supports Silver Sneakers, you are eligible. Your plan will vary, depending on where you live. If you are eligible, you'll receive a membership card in the mail. With this card, you can go to any participating facility, and you will not have to go a minimum or maximum number of times each month.
Are Silver Sneakers Classes Safe?
Professional adult fitness experts have designed Silver Sneakers classes for adults of all ages, fitness levels, and abilities. Credentialed fitness instructors teach all classes, and modifications are available for those who need them. Silver Sneaker instructors know that your body moves differently from a younger body. That's why they use controlled movements and avoid quick starts and stops. You'll feel good knowing they understand how your body moves.
What Should I Wear to the Gym?
There's no need to buy the latest workout clothing. All you need are comfortable clothes and athletic shoes that fit you properly. It's best to wear clothes made of cotton that are loose-fitting so that you can move freely.
Should I See a Doctor Before I Start?
It's always a good idea to consult your doctor before starting any fitness routine. If you are new to exercise or recovering from an injury, you'll want to speak to your doctor about what exercises are best for you.
It's never too late to start living a healthier life, and you can feel better in just 30 minutes a day. Now that you know more about Silver Sneakers classes, it's time for you to get fit, so don't wait another minute. Once you start, you'll have more energy, and you'll feel better than you ever did before. Best of all, you'll be socializing with other seniors in a fun and upbeat senior workout class.