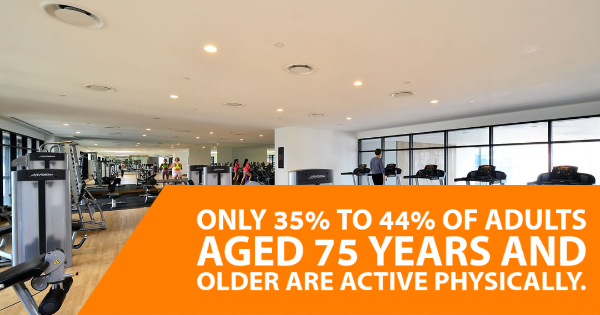 Only 35% to 44% of adults aged 75 years and older are active physically, and 28% to 34% of adults aged 65 to 74 are active physically. The idea seems to be that as people age, it's time to slow down and relax. Most adults believe, whether you're approaching retirement or you're already retired, getting older means life slows down to a snail's pace.
Sure, it's great to be able to slow down somewhat and enjoy life, just as long as you don't stop moving. You deserve more leisure time. Enjoying life means feeling good and being able to move so you can enjoy younger family members to the fullest extent. Besides, you're not done exploring, traveling, and trying new activities.
Are Your Flexibility and Mobility in Jeopardy?
Not being able to move normally can put a kink in your day. Is it difficult to turn your head completely to check traffic? Do you have trouble reaching for something on a shelf that you used to be able to reach? Are your dance moves or golf swing lacking? All of those difficulties point to a lack of mobility and flexibility. You can turn both inconsistencies around with stretching classes for seniors.
A flexible body gives you the ability to enjoy a greater range of motion within joints, and it makes it much easier to move. This is especially true if you do quite a bit of sitting. You'll need to work out any stiffness in your back, shoulders, and hips. Don't delay, check with your local fitness center to find out if they have stretching classes for seniors. It's the best way to get in some exercise and enjoy some group fitness.
Fitness Is Important at Any Age
No matter how old you are, fitness is important at any age. The level of fitness may change, but the need for it doesn't. That's why local stretching classes for seniors, Silver Sneakers classes, and senior workout classes are such a good idea. It aids in getting fit if you've been too sedentary. Stretching is a very important part of your health. It is the one exercise you can do to offset the normal decline of flexibility that affects joints the most. Besides, being fit and feeling good help you stay independent and remain active.
Do You Feel a Little Tense?
Muscles tend to lose elasticity and become shorter as the human body ages. The older you get, the more you may find that you have a decreased range of motion in your spine, shoulders, and hips. The answer to combating aging and having muscles decline is stretching. Stretching classes for seniors are a great way to relax while relieving tension, especially if breathing exercises are incorporated. Your posture will also be improved while following a decent stretching regime.
Many Seniors and Adults Can Safely Perform Exercises for Stretching
The beauty of stretching is that it can be fun while performing stretching exercises in classes with other people. Beyond the fun you'll have with workout buddies, you stand the chance to improve back pain, your posture, and in some cases arthritis. Check in with your local gym and ask about stretching classes for seniors so you can sign up and encourage your family and friends to sign up with you.
Don't Wait to Get in Shape
Do you think it's too late to get in shape? There is no such thing as too late where fitness is concerned. Even the tiniest bit can help. Stretching classes are a good start since they focus on strength training, range of motion, agility, balance work, coordination, and cardio all while having a ton of fun. It doesn't matter how old you are, or your fitness level as long as you're trying to improve your life with stretching and fitness as a goal. Qualified instructors will lead you through classes and are always there to help so you feel safe and secure.