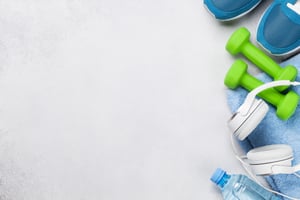 Approximately 28%, or 80.2 million people, in the United States aged six or older are not active physically. In addition, physical education classes for children in grades K-12 are only required in six states. If you've recently made the decision to get into better shape, Texas Family Fitness recommends three fun fitness classes to check out.

1. Strength Training Classes.
If your fitness goal is to increase your overall body strength and build more lean muscle, consider strength training classes. During the class, knowledgeable trainers will employ a variety of equipment to guide you through workouts that will target all of your major muscle groups. Texas Family Fitness recommends this class for individuals of all levels of fitness.
For those who are intrigued by the idea of working with barbells, a barbell group fitness class will help you safely master basic lift techniques while providing an effective total body workout.
2. Group Fitness Dance Classes.
Bring out the hidden dancer in you! Texas Family Fitness offers fun classes like Barre, BollyX, MixxedFit, Cardio Dance, and Zumba. You'll have a ball dancing along with Latin rhythms, Bollywood beats, hip-hop, or Top 40 songs. In the process, you'll dance your way to fitness. No prior dance training? No worries. You can take any of these classes even if you have no previous dance experience.
3. Classes for Seniors.
Studies show that only 35% to 44% of people 75 years of age and up are active physically. Just 28% to 34% of 65 to 74 year-olds keep physically active. The senior classes at Texas family Fitness can change that. Senior Fit classes focus on increasing your range of motion, stretching for flexibility, and improving your balance and agility. Cardio training is not forgotten either. Your age or level of fitness doesn't matter here, so give Senior Fit a try!
Gregarious seniors who want to socialize while gaining better balance, posture, and mobility will want to try a Silver Sneakers class. These classes are also led by an experienced trainer.
Deciding to get fit was the first big step. The next step is deciding how you want to do that. With strength training, dance, and senior classes to choose from, Texas Family Fitness offers classes that are the perfect fit to help you become the fit new you!